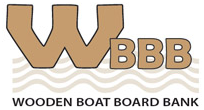 The Wooden Boat Board Bank, (WBBB) an asset owned by the State of Tasmania, is managed by Sustainable Timber Tasmania (STT) to satisfy its original aims and rules which are:
"a trading house and permanent storage facility for wooden boat boards*, such that irregular supply and demand patterns can be managed to optimise the long term state-wide recovery of boards suited to wooden boat building from sawmillers (sawmills) processing Huon pine and celery-top pine (in particular)". 
* clear boards generally greater than 3m length
Stored at IST Geeveston, the WBBB stock represents the three traditional Tasmanian boat building timbers: Huon pine, Celery top pine and King Billy Pine. The stock is held in sealed packs that vary in volume from 0.13 – 1.24 cubic metres Most timber packs are about 0.5 – 0.9 cubic metres while the slab packs on average are larger.  
As a guide, about half the Huon pine stock is in boards 25, 32, 38 and 40 mm thick and half is in slabs 20, 22, 25, 27 and 30 mm thick. The celery-top pine packs contain boards 25 mm and 38 mm thick while the King Billy pine packs contain boards 25, 38, 40 and 50 mm thick.
In the first instance boat builders are encouraged to purchase boat timber directly from Tasmanian sawmills because the WBBB sales aim to complement not compete with boat timber sales from specialist sawmills.  
Where suitable timber cannot be sourced from private enterprise, Tasmanian professional boat builders should contact IST Geeveston for boat building and repair materials.
Prospective purchasers should be mindful that STT and IST Geeveston reserve the right to:
Decline to sell WBBB stock to someone who is not a bona fide boat builder or who does not provide convincing evidence that the WBBB stock will be used to build or repair a boat in Tasmania.   

Limit timber sales from the WBBB to any single buyer to a reasonable proportion of the board or slab stock in the WBBB.

Sell full packs only and not break them open to source individual pieces.